I want to put up another 40m beam. Not comfortable doing it on the Rohn 25G tower that I have.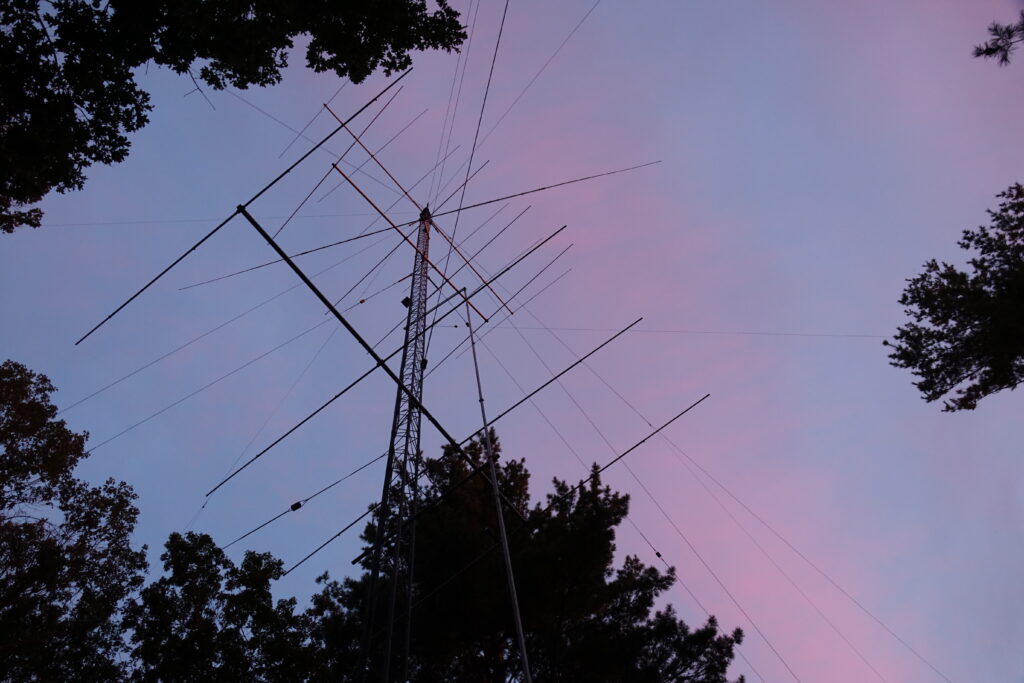 September 2021
I had the opportunity to obtain 100′ of Rohn 45G from John K1AE. He lives about an hour from me. Making multiple trips and with a lot of help from YCCC club members, I was able to get the tower down over a 4-week span. I also purchased a Cushcraft 40-2CD that he had on the ground. I rented a U-Haul van to transport everything (tower, guy wires, beam) home.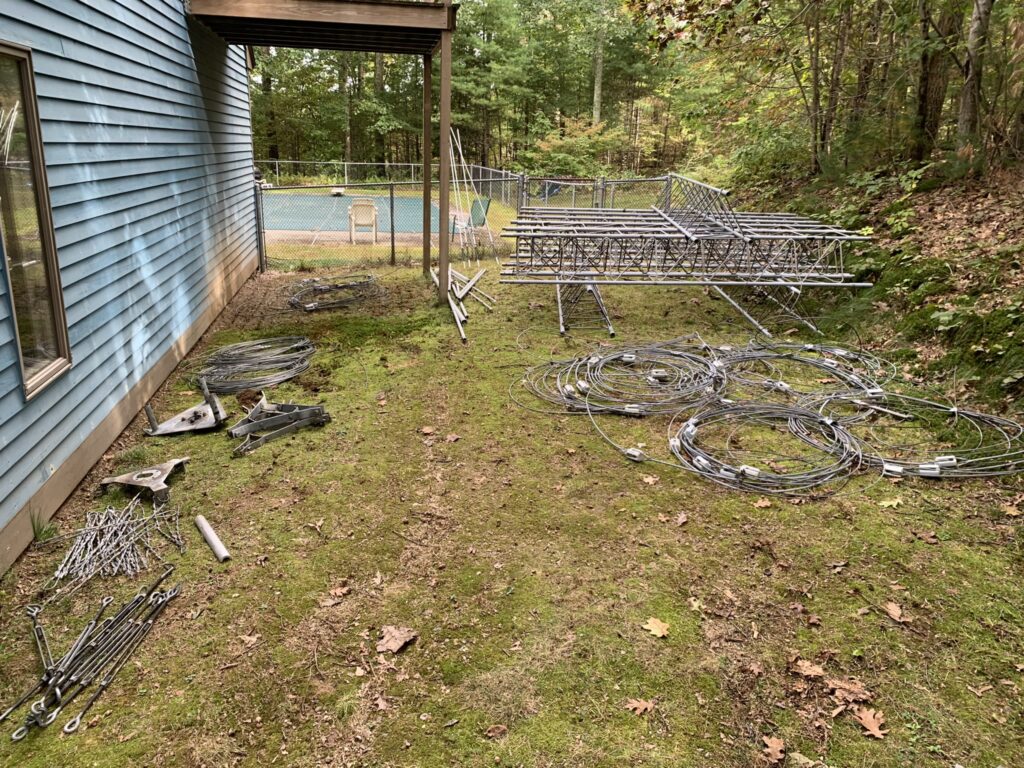 October 2021
Took advantage of some nice Fall weather to touch up some rubbed and rusted spots on the tower so it was ready to go.
December 2021
A tree falls over and lands on one end of the stack of 40-2CD aluminum. Argh. The only "safe" place for antennas is in the air!
April 15, 2022
With the 3-day Easter holiday, I solicited help on the YCCC email list. Received a lot of generous responses and offers to help.
Martin AA1ON, Mark KA1YQC, and John NN1SS came down and we got started. We made much more progress than I expected – removing all antennas and getting down to the 60' level.
In order, we removed:
80m dipole (freeing it up from the tree that had captured the feedline)
80m 4-square that was hanging from ropes strung out from the tower
40m sloper
160m shunt feed
Two 4-ele Cushcraft 10m beams that were side-mounted
30m dipole
6-ele 10m beam
Rotator
We corkscrewed the beams down the tower. 10 meter beams are so easy to manipulate…
Weather was sunny and nice, except for the occasional gusts over 25mph. Nothing like being 80' up with the top set of guys removed and the wind deciding to blow harder.
One lesson learned. When a tower is a bit floppy, it is hard to get the sections to wiggle apart. NN1SS brought a Tower Jack and that saved the day. Sections that were more stable close to a guy wire wiggled right apart.
After everyone left, I took advantage of the nice weather to prepare the guys at 60′ for removal and installed the temporary guys at the 10′ level.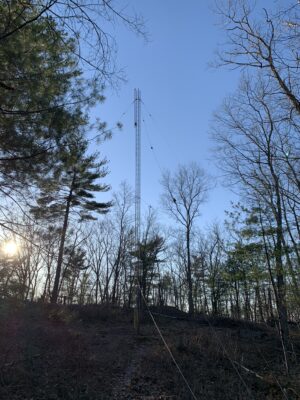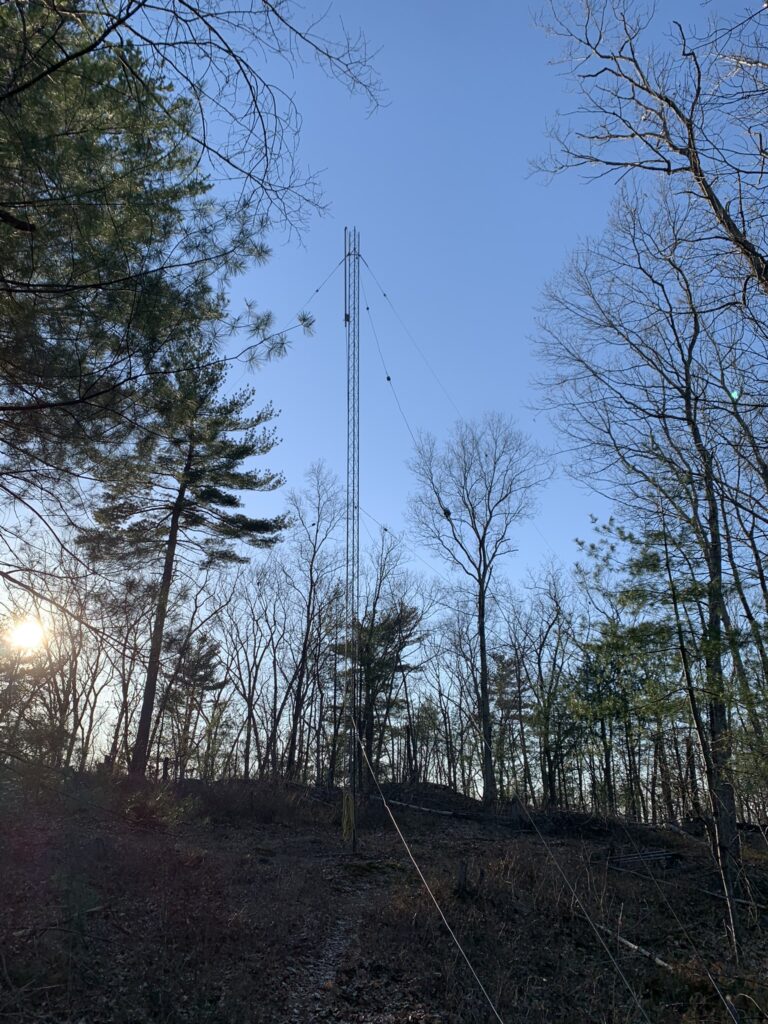 April 16, 2022
When I installed this tower in 1994 I had purchased a 1/4″ wall 12′ steel mast. Weighs just over 100 pounds. Never used it. Has been imprisoned in the tower ever since. I was a bit worried if the two of us would be able to handle it.
Martin arrived about 9am, and we had the last 60' down in about 2 hours. We pulled the mast out of the tower when we got to the 20′ level. I won't say it was easy, but the two of us managed it without incident.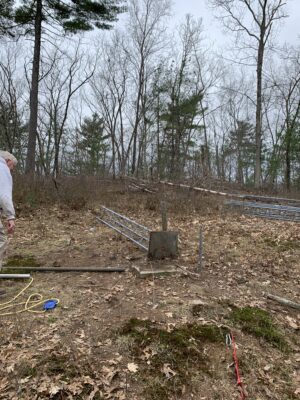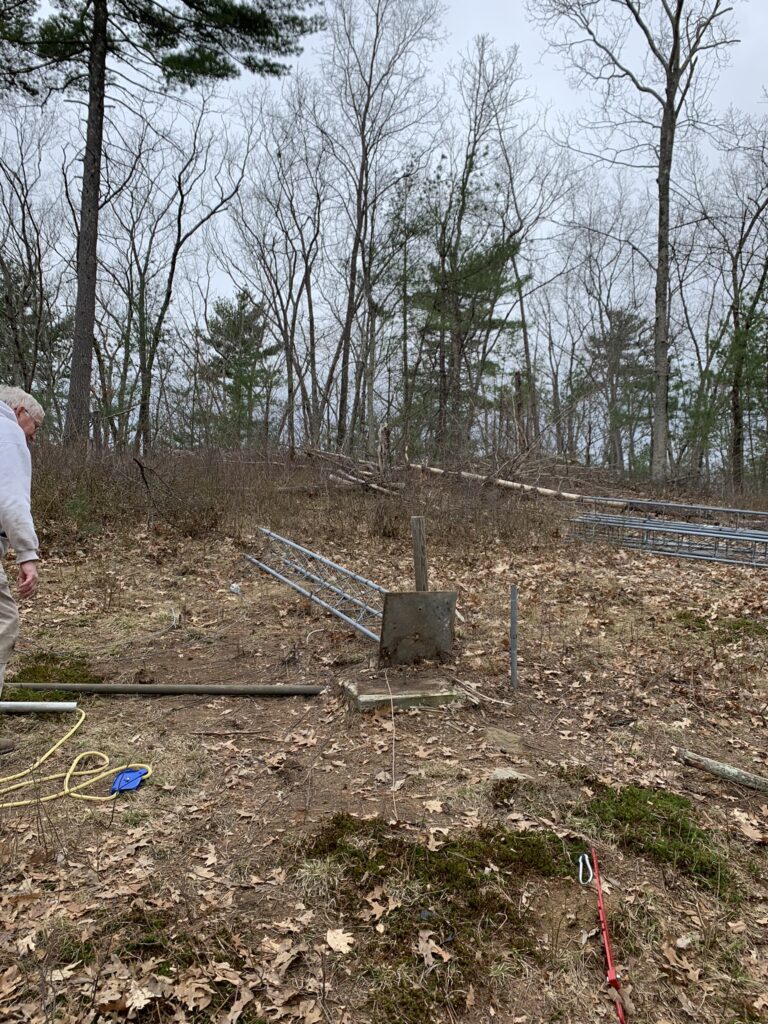 We were so far ahead of schedule that we had just finished when Ken WO1N arrived. I feel bad for letting him make the drive down.
I am now without antennas for 80, 30 and 10 meters. The crazy things we do to be just a little bit louder. 🙂
April 19, 2022
Made a run to visit Dave K1ZZ and pick up a 40-2CD antenna that he had been storing for Mark K1RO. "Storing" for the past 25 years! The antenna was in great shape and, after some hardware replacement, will soon be at the top of the new tower.
April 21, 2022
My friend Ron brought over his chainsaw and we took on the job of removing trees that had been growing into the guy wires. Always afraid of cutting down trees near a tower, so wanted to take advantage of this opportunity to clear things out a bit. Was perfect weather for getting the job done.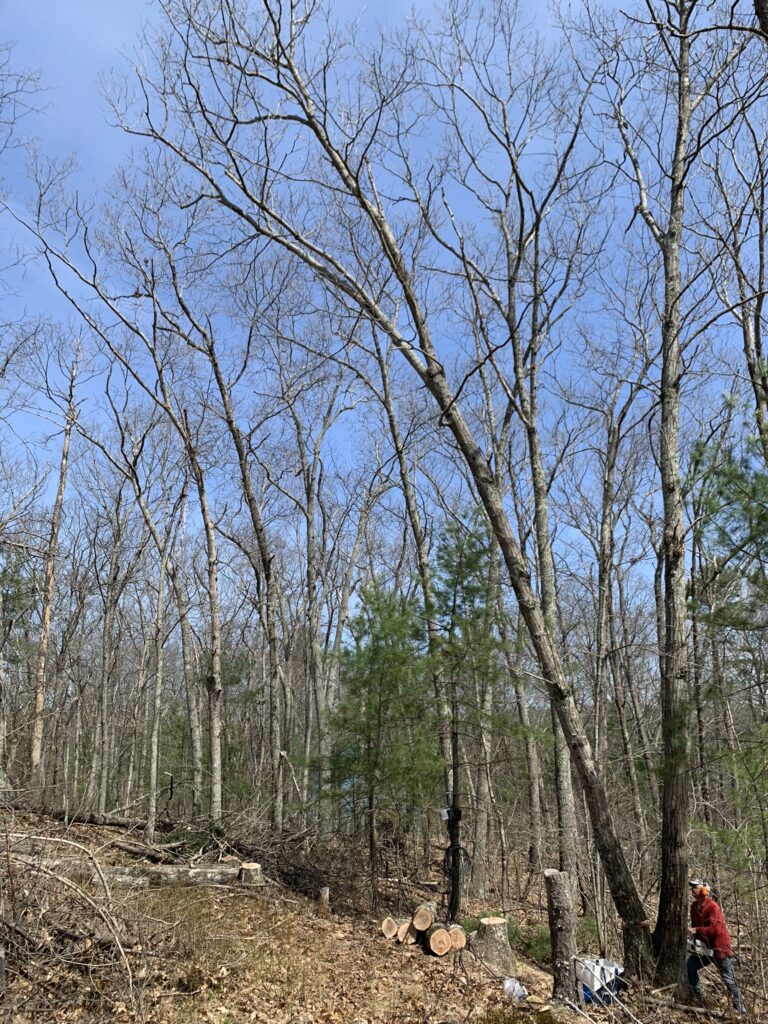 These were big trees. Glad to get them down before the leaves came out.
April 23. 2022
Another great day to get some work done.
The original tower base was big enough to support Rohn 45, but I wanted to make the base a bit bigger to provide more support. Let me just say it is a long carry to get concrete from the driveway near the house to the tower base. A 350′ carry that is uphill all the way.
Mission accomplished.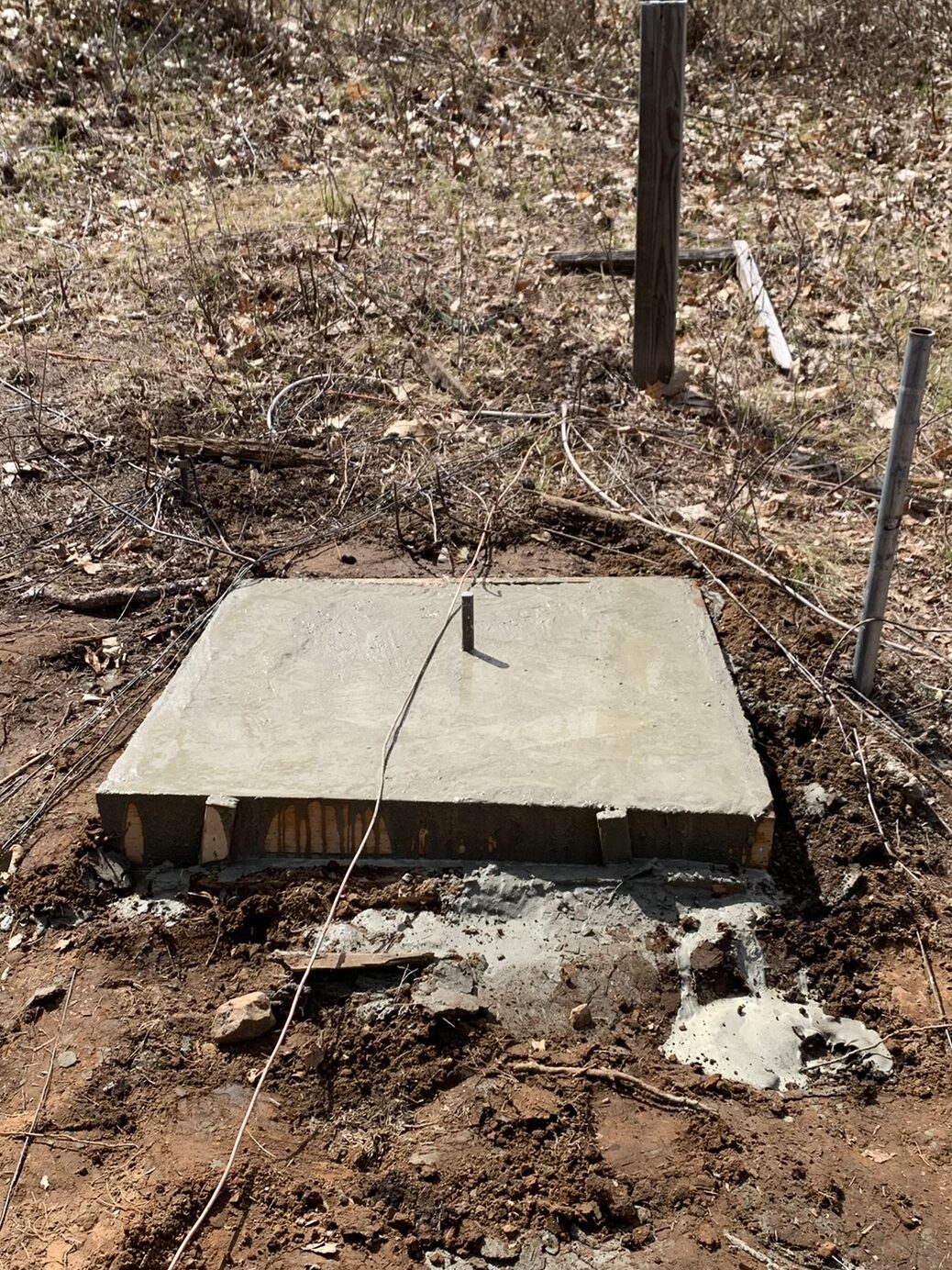 Next Steps
Need to get the antennas rebuilt.
to be continued…