2023 WAE DX Contest CW K5ZD
                    WAE DX Contest, CW - 2023

Call: K5ZD
Operator(s): K5ZD
Station: K5ZD

Class: Single Op HP
QTH: W1
Operating Time (hrs): 17.5

Summary:
 Band  QSOs  QTCs  Mults
-------------------------
   80:  110     0   100
   40:  225   213   111
   20:  378   434    84
   15:  451   560    88
   10:   49     0    40
-------------------------
Total: 1213  1207   423  Total Score = 1,023,660

Club: Yankee Clipper Contest Club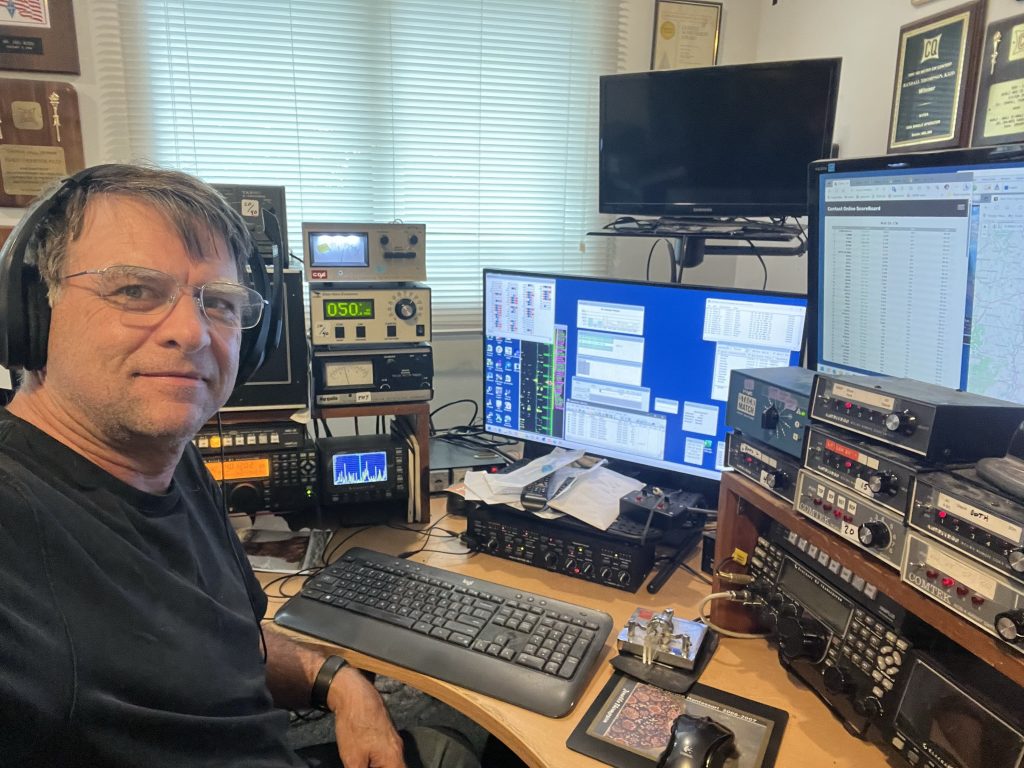 Comments
Part time. I worked the fun parts of the contest. Only used one radio + the cluster.
Went to bed at 03z each night so missed some easy mults on 80m like CT, PA, OE,and G!
15m was great both days. 10m opened well Sunday but very spotty. Loud signals and weak ones.
Nice to see so much activity from Germany.
QSO/DXCC by hour and band
 Hour      80M     40M     20M     15M     10M    Total     Cumm    OffTime

D1-0000Z  --+--   45/45   22/22   --+--   --+--   67/67     67/67  
D1-0100Z   5/12   23/15   30/8      -       -     58/35    125/102 
D1-0200Z  42/48   28/21    4/8      -       -     74/77    199/179 
D1-0300Z  30/28    9/9    13/12     -       -     52/49    251/228    16
D1-0400Z    -       -       -       -       -      0/0     251/228    60
D1-0500Z    -       -       -       -       -      0/0     251/228    60
D1-0600Z    -       -       -       -       -      0/0     251/228    60
D1-0700Z    -       -       -       -       -      0/0     251/228    60
D1-0800Z  --+--   --+--   --+--   --+--   --+--    0/0     251/228    60
D1-0900Z    -       -       -       -       -      0/0     251/228    60
D1-1000Z    -       -       -       -       -      0/0     251/228    60
D1-1100Z    -       -       -       -       -      0/0     251/228    60
D1-1200Z    -       -       -     26/32     -     26/32    277/260    48
D1-1300Z    -       -       -    113/38     -    113/38    390/298 
D1-1400Z    -       -      2/4     6/0     1/2     9/6     399/304    51
D1-1500Z    -       -       -       -       -      0/0     399/304    60
D1-1600Z  --+--   --+--   --+--   --+--   --+--    0/0     399/304    60
D1-1700Z    -       -      2/4    42/0    16/20   60/24    459/328    20
D1-1800Z    -       -     15/4    52/8     3/2    70/14    529/342 
D1-1900Z    -       -      1/0      -       -      1/0     530/342    57
D1-2000Z    -       -       -       -       -      0/0     530/342    60
D1-2100Z    -       -       -       -       -      0/0     530/342    60
D1-2200Z    -      5/6    55/12     -       -     60/18    590/360     7
D1-2300Z    -       -       -       -       -      0/0     590/360    60
D2-0000Z  --+--    3/0     4/0    --+--   --+--    7/0     597/360    41
D2-0100Z   5/4    37/3     3/0      -       -     45/7     642/367 
D2-0200Z  12/8    23/9    11/4      -       -     46/21    688/388 
D2-0300Z  15/0    15/3    12/0      -       -     42/3     730/391    15
D2-0400Z    -       -       -       -       -      0/0     730/391    60
D2-0500Z    -       -       -       -       -      0/0     730/391    60
D2-0600Z    -       -       -       -       -      0/0     730/391    60
D2-0700Z    -       -       -       -       -      0/0     730/391    60
D2-0800Z  --+--   --+--   --+--   --+--   --+--    0/0     730/391    60
D2-0900Z    -       -       -       -       -      0/0     730/391    60
D2-1000Z    -       -       -       -       -      0/0     730/391    60
D2-1100Z    -       -     57/2     5/2      -     62/4     792/395    12
D2-1200Z    -       -      3/4    60/4     6/6    69/14    861/409 
D2-1300Z    -       -       -     52/2     2/2    54/4     915/413 
D2-1400Z    -       -       -       -      5/4     5/4     920/417 
D2-1500Z    -       -       -     50/2     3/0    53/2     973/419 
D2-1600Z  --+--   --+--   --+--   16/0    13/4    29/4    1002/423    31
D2-1700Z    -       -       -       -       -      0/0    1002/423    60
D2-1800Z    -       -       -       -       -      0/0    1002/423    60
D2-1900Z    -       -     38/0    29/0      -     67/0    1069/423    14
D2-2000Z    -       -     68/0      -       -     68/0    1137/423 
D2-2100Z    -       -      9/0      -       -      9/0    1146/423    49
D2-2200Z    -       -      2/0      -       -      2/0    1148/423    60
D2-2300Z   1/0    37/0    27/0      -       -     65/0    1213/423 

Total:   110/100 225/111 378/84  451/88   49/40 


Best 60 mins: 132 QSOs starting 12-Aug-2023 12:48
Worked on 5 bands:
9A30T 9A5Y DA2X DK9PY DL2SAX DL5AXX DP6A EF5Y EI5KF HB0DX IK0EFR IR2C IR2Q OM2VL OM7M RU1A S53X SN2B SP8R TM7A